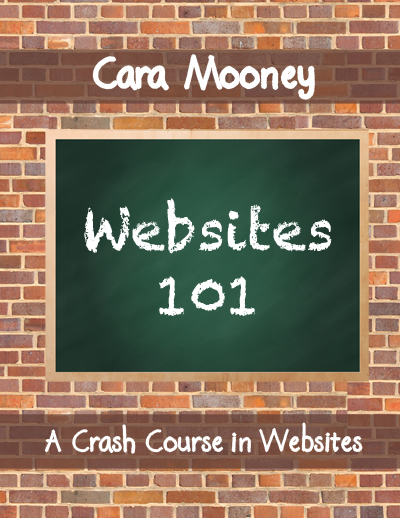 One of my first posts was an Websites 101 Went through the breakdown of all the major components of what makes up a website in theory and in practice.
I have been writing a series of mini e-books on various website-related topics. One of my recent releases is the e-book, Websites 101: A Crash Course. This is an e-book about websites, to help give you an idea of the inner workings and unfamiliar basics. Think of it as a "Websites for Dummies" sort of book. It covers all the bases on informing a website owner. It goes through everything from hosting and domain names, to designing or creating your website and content management systems.
This includes topics such as why you should even need a website and what a website can do for you. There are many different types of websites out there. This also gives small insight into the building and design process that I follow.
At the moment it is only available for current and past clients of Cara Mooney Designs, or it can be purchased for $4.99. If you are interested in purchasing a copy, which you can download in a ZIP PDF file format, please contact me.
The following two tabs change content below.
Cara is a young artist, website designer, and photographer from New York State, operating her own freelance business: Cara Mooney Designs. She currently resides in Upstate New York, generally serving the local community of the Capital District and the greater Tri-State Area surrounding Albany.