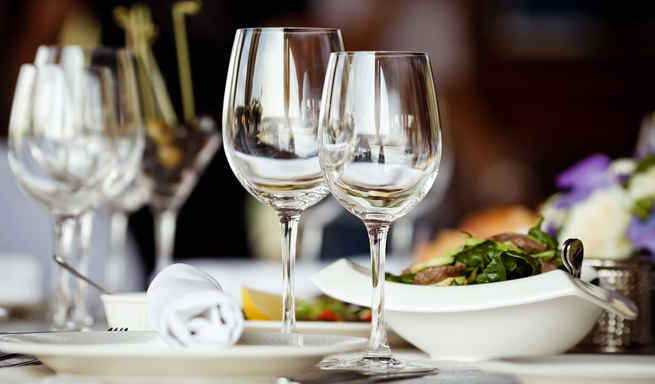 I have seen so many restaurant website designs that fall short of what not only makes up a good website design, but a good restaurant website design. I believe that it is necessary for everyone, especially restaurants, to have a good website that shows off their business to the online world, and helps future customers, and regular patrons obtain information easily. I have worked in the restaurant industry, and I know what goes into making a restaurant run. It is hard work, but it pays off! So why not put the same care into your website? At the same time, restaurant owners often do not have a lot of time to devote to their websites, so it is my goal to make that process as easy and stress-free as possible.
Below are 10 things you can do to improve your restaurant website design!
Step 1: Avoid Website Builders and Editors
Too often I have seen template websites, or easy DIY website builders and editors that website hosts offer such as Webs.com and Weebly.com. Even WordPress falls under this category. While this is not always a bad thing, if done by someone without an artistic eye or experience in design as well as knowledge of what makes up a good website, the final product looks cheap, amateur, and troublesome for the person who maintains it. Often I see ethnic cuisine restaurants, especially Asian restaurants, that use a template that is mainly focused on having the visitor order the food online, but it lacks originality, and too often is missing key information.
Step 2: Have Professional Photos
There is nothing worse than seeing unappetizing food pasted on the front page of the website. That doesn't mean the food is necessarily bad, but without professional equipment, proper lighting, setup, and an artistic eye, what could look amazing seems bland and tasteless, if not disgusting. You do not need to pay $500 a shoot for a professional food photographer (although if you want to, all the better!). A regular photographer who understands about lighting and focus and has good equipment is enough.
Also, this does not mean you go and purchase beautiful-looking photographs from stock websites! It is false-looking, as well as misleading to your customers.
Step 3: Avoid Excessive Text
People usually go to your website for one thing: information. They want it fast, quick, and all-inclusive. Putting too much text deters the viewer from reading and weeding out what information they need. You do not need information on the CV of your chefs on the front page, or how you became inspired to name your restaurant. Provide the main information in a clear, readable, and organized fashion, and then later on, you can include the more superfluous details that gives your website character.
Step 4: Avoid Music, Flash Animation, and Over Styling
If there is one thing I hate, it is when I open a page that has music. I have to hunt around for the mute button, and if I cannot find it in the first 20 seconds, I usually angrily turn off my volume or exit. Never add music or sound effects into your website design! The same goes with Flash animation. It is alright (eh) if used very minimally, but a general rule of thumb is to avoid it. It often is not compatible with many browsers and or computers. Over styling is also a big problem. There are six different kinds of fonts in five different sizes and colors mixed together with twenty images. That is overwhelming and cluttered. Keep it simple with your fonts, menus, images, and colors.
Step 5: Make sure to include the right things
Often websites miss key information. They only think it is important to put up the name of their establishment, a phone number and address, and their menu in a downloadable PDF. First of all, you are missing so much information! Second, never put your menu in a PDF format. It is good to keep it all together (see next step). Some recommendations of things that are good to include and what to have on each. Of course, do not put this all together, as it is way too much for the main navigation. It does need some organization.
Home Page
About Us (history, staff, gallery, press ect.)
Menu (organize this how you wish)
Catering
Events
Hours & Directions
Contact Us (email form, phone number, address, employment)
Make A Reservation / Order / Gift Cards / Coupons
Step 6: Menus and Styling
The majority of restaurant websites I've seen have their menu as a downloadable PDF or even worse, a JPEG! Stop doing this. It is easier for your viewer to see it on your website page, styled into the design, not some large, slow-loading, image, or a PDF that they must download first in order to view. The menu is often the most important thing about a restaurant's website! Treat it that way. I recommend you have it styled with your prices and details into your website, and then offer a downloadable PDF version. If you have a third party menu company, add an external link to this after you have it on your own website. Second, Google and other search engines like text. PDFs and JEPGs are not readable to them, so you are losing valuable opportunity to promote your website!
Step 7: Organization is King
I can't tell you many times I have gone to a website, looking for something, it takes much longer for me to find to it than I would like. Organization is king! Do not put your Directions under neath the page that is About. Directions are important. Put it under Contact, or even make it its own page!
Step 8: Make sure you have a "Contact Us" page
Too often restaurants do not have a way (besides the phone number) for people to contact them. Email forms are necessary, not only for restaurants, but for websites in general. You are greatly hurting yourself if you do not have one. If you have just your email address online, you are opening up yourself to spam and other scams which can directly go through your website and find the email. Protect yourself while helping your business. It also helps to get feedback.
Step 9: Google Businesses
Make a Google Business page! It validates to Google that you are a real, local business. It makes you stand out among competitors. Clients can post reviews, or at the very least, find your business. It is extremely helpful. Adding Google Analytics is also a good idea so you can measure the performance of your website and see who is visiting what and for how long. You can also see how they are finding your website.
Some if the information may seem superfluous or unnecessarily detailed, but to an expert, they can help you make improvements to not only your website but to your actual establishment and help market your business better!
Step 10: Facebook and Other Social Media
Facebook is great. So many people are on Facebook now-a-days, that having a Facebook page is a great idea. But note: it does not supplement for having a website! It only adds to your website, and you want to make sure that your website is top-notch before skipping to this step. It is another good way though to promote your website and allow people to "Like" your website. If your restaurant is only part of your business (for example, you run a hotel or country club), then having a hand in social media is a great way to get your name out there. Twitter is also good, but in order to run a good Twitter account, it a round-the-clock job, so I recommend you do not create an account until you are ready for the responsibility, or else it can hurt you more than help. Be warned, the drawbacks of social media are always that people can say bad things about your establishment, and handling these responses is always tiring and hard at times. It must be done appropriately so you do not damage your image. Overall, I think the benefits outweigh the problems that can arise.
So I hope this information can help you with your restaurant website design project. If you have any questions, please feel free to let me know, and if you find yourself in need of a good and reliable website designer, look no further, I will be happy to help!
The following two tabs change content below.
Cara is a young artist, website designer, and photographer from New York State, operating her own freelance business: Cara Mooney Designs. She currently resides in Upstate New York, generally serving the local community of the Capital District and the greater Tri-State Area surrounding Albany.