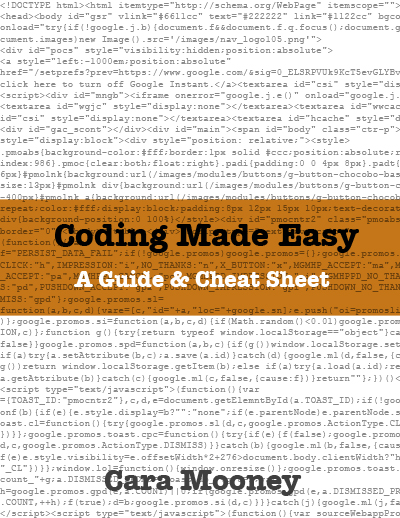 One of my first posts was an HTML Cheat Sheet that covered all the basics of HTML and xHTML. It is a tutorial and reference page with all the basic HTML codes and elements explained and listed.
I have been writing a series of mini e-books on various website-related topics. One of my recent releases is the e-book, Coding Made Easy. It is similar to the example of the HTML Cheat Sheet, but goes into more depth, even explaining differences between xHTML and HTML. It is meant for beginner coders who are looking for a desktop reference guide, or for new website owners who have little background with editing a website, and need an understandable, but through, explanation of the breakdown of coding.
At the moment it is only available for current and past clients of Cara Mooney Designs, or it can be purchased for $8.99. If you are interested in purchasing a copy, which you can download in a ZIP PDF file format, please contact me.
The following two tabs change content below.
Cara is a young artist, website designer, and photographer from New York State, operating her own freelance business: Cara Mooney Designs. She currently resides in Upstate New York, generally serving the local community of the Capital District and the greater Tri-State Area surrounding Albany.